Chuffed to see my piece on 2020 in Irish music featuring Junior Brother, The Mary Whallopers and Fontaines DC published in today's Hotpress.
BY: WILL RUSSELL
In a shift that history may record as seismic, Irish singers, songwriters and bands are grappling with the big issues like never before. And they are doing it in their own, authentic voices. This fresh creative ferment promises to make 2020 a year to remember…
Ifirst heard Junior Brother in the heavens above Dingle Town, wild camping on Faha Ridge, in the shadow of Mount Brandon. I think it was Aoife Nic Cormac playing 'Hungover at Mass' on The Rolling Wave on Radio 1. I was drawn to it immediately.
You could picture a chap, pedalling in from Cloghane to Dingle, stopping off in Kennedy's and McCarthy's, leaping around like The Bird singing 'Full of Wine', dancing the psychedelic reel and then sliding into the back of St. Mary's Church. Christy and his surfboard are in 'Hungover at Mass', as are Richie Kavanagh and Damien Dempsey. But it is also Nick Drake and Captain Beefheart, beautifully blending the banal with the other-worldly. It is unmistakably Irish.
And so I bought the album, Pull The Right Rope – it's good, very good.
SOMETHING IN THE AIR
Junior Brother was playing Whelan's later in the month, so along I went. It was absolutely rammed, they were out the door, the support act was bringing the house down. I couldn't see these lads without burrowing through the top bar and bugging everybody on the steps. Down in the venue, there were three chaps sitting on small stools, singing Irish folk, the crowd joining in: it felt like a step back into the past. The place erupted for the song 'Cod Liver Oil and the Orange Juice'. Man, it was mighty. When they finished, I asked the chap beside me, who'd looked deliriously happy throughout the set, who they were.
"The Mary Wallopers, fecking brilliant," he said. I didn't need to write that name down.
Loads of people seemed to leave or went to take air. I scrambled down to a perch on the right side, front of stage. It got crowded again and half an hour later, three dudes sort of ducked onto the stage, and sat in the same seats as The Mary Wallopers. What a set they played. Tremendous. The song 'The Back of Her' was in my head until Christmas Eve.
Junior Brother sculpts his work cleverly, blending a punk sensibility with English and Irish folk. I remember attending a Damien Dempsey gig in the midlands in the late nineties. No one got it. They would later, but it would take time. Man, it was so original. I read Junior Brother saying that hearing Damien's first record was a complete sea-change for him.
I listened to They Don't Teach This Shit in School for the first time in nearly 20 years recently and what hit me was this – you don't really remark on Damien's Dublin accent any more. Jesus, remember when it came out and the feelings it evoked? People listening to it nowadays won't see it as any big deal, but boy, it was then. Most of us were reared on bands singing in accents not like our own, and then along comes this guy singing in his own unrepentant voice. It was shocking, and when you came around to it, brilliant. Damien Dempsey was a trailblazer (as Christy Moore had been before him).
His work is now bearing fruit. Junior Brother and the Mary Wallopers are drawing mobs to listen to their Kerry and Louth tones. Irish artists, singing about Ireland in Irish accents: there is something in the air alright.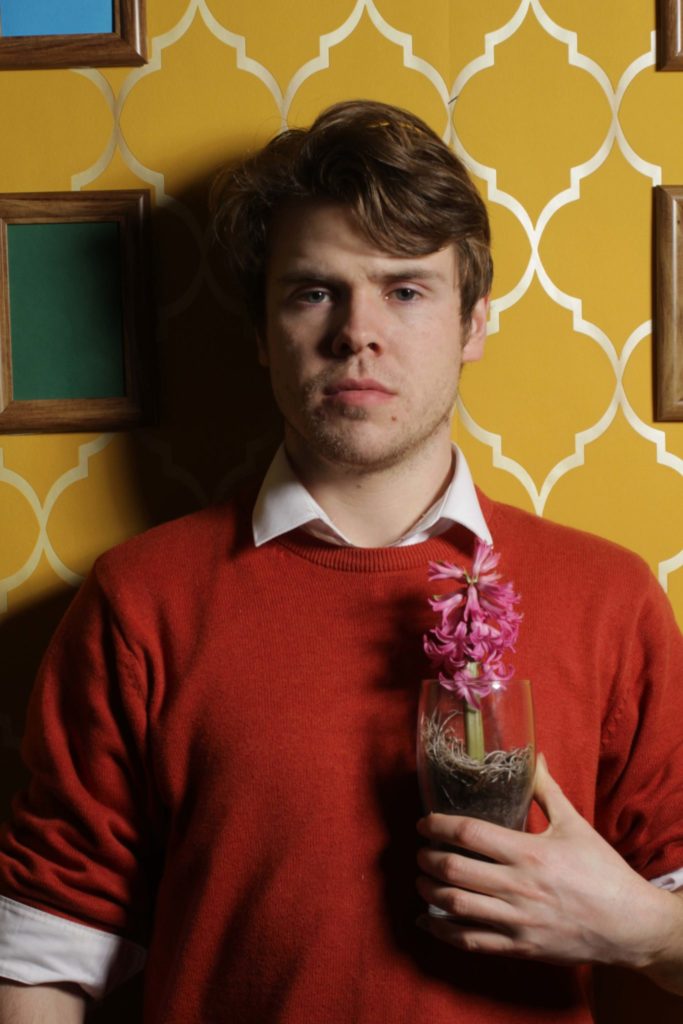 Junior Brother.
FINDING THEIR OWN VOICES
Later that night, I was watching Wexford Street through the rain pouring down the plate glass, the rickshaw drivers twisting around the parked cars and belching buses, heading to God knows where, revellers beating paths into fuzzed up emporiums, below a dragon eye moon chasing the speeding clouds.
Look around you. Much of the familiar Dublin we thought we knew is disappearing. And what remains, the creeping monster of gentrification is metamorphosing. It is interesting to listen to the response of a new generation of Irish artists across hip-hop, rock, trad, folk, punk, and electronic music to a city in major transition.
The time is ripe now for artists to write about the flux. And they are. Step in the New Folk of Junior Brother, David Keenan, The Mary Wallopers, Lankum, Lisa O'Neill and Ye Vagabonds. Not all are of Dublin. Some had to bring their own counties here – Kerry, Louth, Cavan – just as Patrick Kavanagh brought an intangible but still rooted spirit of Monaghan to the banks of the Grand Canal.
This new movement for a fresh decade stretches beyond folk: Fontaines D.C., The Murder Capital, Mango x Mathman, A Lazurus Soul, Versatile, Tebi Rex, Super Silly, Jafaris and The Scratch (to name just a few) are all writing and singing about Dublin and have a relationship to the capital that is different to that of their predecessors. And yet, they are connecting with the writers and musicians that went before. I think too of Temper-Mental Miss Elayneous. Of Sinead O'Brien from Limerick. Of Sasha Terfous from Waterford. To a woman and a man, all of these artists are singing in their own accents, finding their own voices.
THE SPIRIT OF THE CITY
I know. There always have been artists singing in their own accents, even here in Ireland: Dolores in Limerick, who had an unmistakable Limerick lilt; The Undertones in Derry; Stiff Little Fingers in Belfast; Jinx Lennon in Dundalk; John Spillane in Cork; Paul Brady in Tyrone; Kila in Dublin; The Saw Doctors in Tuam. What is happening now is an evolution rather than a revolution. What is vital, however, is the critical mass the approach has now attained, and the pervasive feeling of conviction among the artists themselves. And the sense that people have twigged something about art, and about continuity.
There is a strong Dublin literary connection in what is happening, with so many of the new breed referencing or being influenced by Yeats, Joyce, Behan, Kavanagh, Donleavy. And also by the lyrics and music of Lynott, MacGowan, Geldof, Hewson, Friday, O'Connor, McKee, Hansard, Dempsey, Noonan, Pyro: they are in the bloodline. Indeed, many of the new, emerging lions are going even further back into the Irish tradition, to the folk bands of the '60s and '70s — The Dubliners, The Clancy Brothers and Tommy Makem, a young Christy Moore and Planxty.
Many of the artists that are part of this great new flourishing have arrived apparently fully-formed. The singers, songwriters and bands are reconnecting with something that for periods seemed largely to be undervalued. Perhaps we feel we are losing our Dublin, our Ireland, and to get closer to it, we must sing in our own accents.
Shane MacGowan is a priceless link. The Pogues' Red Roses For Me is a beguiling record, a paean to London, but one that is also unmistakably Irish. It is, I suspect, seminal for many of the new breed. With The Pogues, Shane MacGowan wrote lyrics and composed tunes in the Irish tradition but the subjects were modern or, even better, timeless. And, a slight London twang in the early days notwithstanding, he sang with an unmistakably Irish accent.
If there is a sixth member on Fontaines D.C.'s excellent album Dogrel, it is Dublin itself. Tellingly, Grian Chatten feels that to sing in a voice other than his own, would be comparable to giving his words to someone else, that it would be a force against himself, against self-expression. Listening to Dogrel, you understand why. The spirit of the city permeates the entire record.
Like Shane MacGowan, Fontaines D.C. cite The Dubliners – who in Ronnie Drew and Luke Kelly included two utterly distinctive vocalists, both drawing powerfully on their Dublin roots – as an influence. They hint that Girl Band represent a missing link in the thread of culture that runs from the 1960s until now.
In certain respects, Girl Band may be this movement's Band Zero. Their sound is original, owing little to what preceded them in Dublin. They were fired by that ineluctable sense of self-belief necessary to go their own way, writing about what they know – and they did just that. Other musicians and songwriters were listening. Girl Band helped to plug an entire scene into a deeper well. It is strange to think of it now. Outside of Hot Press, the early efforts of Irish hip hop artists like Scare Éire, Messiah J & The Expert and The Rubberbandits were often dismissed as a kind of self-parody. Some of them at least were accused of stage-Irishness and Paddywhackery. Now that wheel has turned. The likes of Mango, or Casper and Eskimo Supreme from Versatile, are rapping about Dublin, not seeing it through an East LA prism. The same applies to The Rusangano Family in Limerick. The struggle for self-definition is rooted in language: perhaps the fear of losing your city demands that you sing in your own voice. Perhaps.
Spinning back through towering figures like Kerouac, Joyce, Whitman, Milton, Shakespeare and Chaucer, artists have opened their art to what at the time were despised or discarded oral traditions. When they do, and it works, the effect can attain an additional, even more visceral power. That's why, in Dublin and in Ireland, the 2020s look so promising. We are on the cusp of something. The gods of taste are smiling. As the success of Fontaines D.C. confirms, audiences are tuning in across the world.
2020. It could be monumental.
A DAWN TRAIN WEST
I made my 4am path across town, the city slumbering and quiet now, through the glistening Green, down drowsy Grafton Street, around by Goldsmith and Burke, across O'Connell Bridge, down by Anna Livia, looking for a dawn train west. Still humming 'The Back of Her'.